---
Challenges and opportunities for the beverage industry
SIG Whitepaper: Global society goes mobile
9. November 2017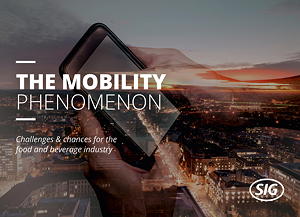 Quelle: SIG
Mo­bil­i­ty is a glob­al mega­trend that af­fects all so­cial and eco­nom­ic spheres. It changes the way peo­ple work, think, com­mu­ni­cate, con­sume and also how they eat and drink. This presents the bev­er­age in­dus­try with new chal­lenges – and opens up new op­por­tu­ni­ties. In a white pa­per, SIG shows how bev­er­age man­u­fac­tur­ers now can set the course with the choice of the right prod­uct and pack­ag­ing con­cept in or­der to reach mo­bile so­ci­ety and thus boost their own busi­ness.
The white pa­per out­lines what adds val­ue to mo­bile con­sumers. This in­cludes healthy, mod­ern al­ter­na­tives to tra­di­tion­al snacks suit­able for on-the-go con­sump­tion. Such prod­ucts have the best chance of be­ing sold at a rea­son­able price.
An­oth­er cen­tral point of the white pa­per is the analy­sis of the role pack­ag­ing plays in a suc­cess­ful prod­uct con­cept. Smal­l­-for­mat car­ton packs, in par­tic­u­lar, can play a key role in the glob­al mar­ket for healthy, liq­uid snacks, es­pe­cial­ly for the mil­len­ni­als, who are among the main play­ers in the young, mo­bile so­ci­ety.
Nor­man Gierow, Head of Glob­al Prod­uct Man­age­ment Mar­ket at SIG: "We have iden­ti­fied four key re­quire­ments that help bev­er­age man­u­fac­tur­ers to de­vel­op suc­cess­ful 'on-the-go' con­cepts – pack­ag­ing plays a cru­cial role in this, as it is the most im­por­tant touch­point with the con­sumer for the brand. The pack­ag­ing ful­fils cen­tral func­tions in prod­uct mar­ket­ing: it cre­ates brand iden­ti­ty, pro­vides in­for­ma­tion, is part of the brand ex­pe­ri­ence and an ide­al way to ini­ti­ate con­sumer en­gage­men­t".
The new white pa­per is avail­able for free down­load on SIG's cor­po­rate blog.
SIG Com­bibloc is one of the world's lead­ing so­lu­tion providers for the food and bev­er­age in­dus­try with­in the field of car­ton packs and fill­ing tech­nol­o­gy. In 2016 the com­pa­ny achieved a turnover of 1,724 mil­lion Euro with more than 5,000 em­ploy­ees.

Der tsche­chi­sche Ver­pa­ckungs­ver­band Syba prä­mi­er­te mit dem Pa­let­ten­dis­play für Back-Sets und dem The­ken­dis­play für Kek­se zwei Dis­play­in­no­va­tio­nen aus der Thimm Grup­pe. Bei­de Dis­plays er­hiel­ten den Obal roku in der Ka­te­go­rie ...

Met­sä Board nutz­te die Fach­Pack 2018 um das Sor­ti­ment von Frisch­fa­ser­kar­ton­qua­li­tä­ten zu prä­sen­tie­ren. Neu da­bei der Kar­ton Met­sä­Board Pro FSB EB1, eine Qua­li­tät mit Öko­bar­rie­re. Die bio­ba­sier­te, re­cy­cel­ba­re und bio­lo­gisch ...
---

Davert GmbH specialises in organic foods and stands for the continuous further development of processing methods and careful monitoring of these products, from cultivation to packaging. And this is where ...

Esko and Scodix announce a collaboration to include Scodix packaging enhancement applications within the Esko Studio suite including, Scodix Foil™, Scodix Embossed Foil™, Scodix Sense™ for UV embossing and Scodix ...
---