---
Challenges and opportunities for the beverage industry
SIG Whitepaper: Global society goes mobile
9. November 2017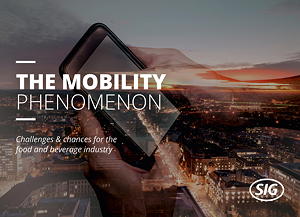 Quelle: SIG
Mo­bil­i­ty is a glob­al mega­trend that af­fects all so­cial and eco­nom­ic spheres. It changes the way peo­ple work, think, com­mu­ni­cate, con­sume and also how they eat and drink. This presents the bev­er­age in­dus­try with new chal­lenges – and opens up new op­por­tu­ni­ties. In a white pa­per, SIG shows how bev­er­age man­u­fac­tur­ers now can set the course with the choice of the right prod­uct and pack­ag­ing con­cept in or­der to reach mo­bile so­ci­ety and thus boost their own busi­ness.
The white pa­per out­lines what adds val­ue to mo­bile con­sumers. This in­cludes healthy, mod­ern al­ter­na­tives to tra­di­tion­al snacks suit­able for on-the-go con­sump­tion. Such prod­ucts have the best chance of be­ing sold at a rea­son­able price.
An­oth­er cen­tral point of the white pa­per is the analy­sis of the role pack­ag­ing plays in a suc­cess­ful prod­uct con­cept. Smal­l­-for­mat car­ton packs, in par­tic­u­lar, can play a key role in the glob­al mar­ket for healthy, liq­uid snacks, es­pe­cial­ly for the mil­len­ni­als, who are among the main play­ers in the young, mo­bile so­ci­ety.
Nor­man Gierow, Head of Glob­al Prod­uct Man­age­ment Mar­ket at SIG: "We have iden­ti­fied four key re­quire­ments that help bev­er­age man­u­fac­tur­ers to de­vel­op suc­cess­ful 'on-the-go' con­cepts – pack­ag­ing plays a cru­cial role in this, as it is the most im­por­tant touch­point with the con­sumer for the brand. The pack­ag­ing ful­fils cen­tral func­tions in prod­uct mar­ket­ing: it cre­ates brand iden­ti­ty, pro­vides in­for­ma­tion, is part of the brand ex­pe­ri­ence and an ide­al way to ini­ti­ate con­sumer en­gage­men­t".
The new white pa­per is avail­able for free down­load on SIG's cor­po­rate blog.
SIG Com­bibloc is one of the world's lead­ing so­lu­tion providers for the food and bev­er­age in­dus­try with­in the field of car­ton packs and fill­ing tech­nol­o­gy. In 2016 the com­pa­ny achieved a turnover of 1,724 mil­lion Euro with more than 5,000 em­ploy­ees.

Grund zum Fei­ern für Bau­mer hhs: Die­ses Jahr nahm die Kro­ha GmbH in ih­rem Werk in Bar­le­ben in der Nähe von Mag­de­burg in Sach­sen-An­halt den welt­weit 5.000s­ten Kalt­leim-Sen­sor UL­T-300 von ...

Ein in­ter­na­tio­na­les De­si­gn-Buch mit zahl­rei­chen Bei­spie­len ak­tu­el­ler Glas­ver­pa­ckun­gen hat Owens-Il­li­nois, Inc. für Kun­den und De­si­gn-Agen­tu­ren ver­öf­fent­licht. Es soll Mar­ken­in­ha­ber und De­si­gnagen­tu­ren auf der Su­che nach neu­en Ide­en für die Glas­ver­pa­ckung ...
---

According to Windmöller & Hölscher, more than 1,000 inking and wash-up TURBOCLEAN systems have now been integrated in central cylinder machines. In 2016, W&H supplemented the system with a new ...

In the blister lid foil printing segment the number and duration of changeovers are becoming ever more critical cost factors – especially against the backdrop of continuously shrinking production runs. ...
---