System for coated and uncoated surfaces
UPM Specialty Papers and Koenig & Bauer optimise digital printing for barrier papers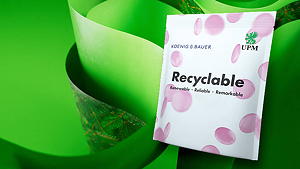 UPM barrier paper families printed on a RotaJET are presented at interpack 2023.
Quelle: UPM
UPM Spe­cial­ty Pa­pers' heat-sealable bar­ri­er pa­pers have achieved ex­cel­lent re­sults in tests car­ried out with Koenig & Bauer's next gen­er­a­tion of inkjet dig­i­tal print­ing tech­nol­o­gy. With the abil­i­ty to change de­signs sim­ply by up­dat­ing a file, dig­i­tal print­ing opens new pos­si­bil­i­ties for brand own­ers and con­vert­ers – from ac­cel­er­at­ing time to mar­ket through to cre­at­ing more cus­tomized pack­ag­ing. The goal was to test and op­ti­mize the com­pat­i­bil­i­ty of dig­i­tal print­ing for UPM Spe­cial­ty Pa­pers' bar­ri­er pa­pers for dig­i­tal print­ing, as it would of­fer a pow­er­ful com­bi­na­tion for trans­form­ing how flex­i­bly even small batch­es of pack­ages can be pro­duced.
"Our goal was to pro­duce sam­ples of a real-world prod­uct," says Falko Bal­tr­usch, Se­nior Man­ag­er at the Koenig & Bauer Cus­tomer Tech­nol­o­gy Cen­ter. "This co-creation was ide­al, com­bin­ing the pa­per and pro­cess­ing ex­per­tise of UPM Spe­cial­ty Pa­pers with our knowl­edge of ma­chines, inks, tem­per­a­tures and so on. This en­abled us to con­trol the whole process to see if the pa­pers were print­able and, if so, make sure that the print was of the right qual­i­ty. We achieved both goals."
The com­pa­nies agreed to run the tests on UPM Con­fidio™, UPM Asendo™, and UPM Prego™ bar­ri­er pa­per fam­i­lies, which of­fer a va­ri­ety of dif­fer­ent coat­ed and un­coat­ed sur­faces. The tests also al­lowed UPM Spe­cial­ty Pa­pers to tri­al their bar­ri­er pa­pers on dig­i­tal print­ing tech­nol­o­gy since pack­ag­ing is tra­di­tion­al­ly print­ed with flexo, ro­togravure, or off­set meth­ods, which re­quire high vol­ume runs.
The Ro­ta­JET build by Koenig & Bauer uses GMP (Good Man­u­fac­tur­ing Pro­duced) wa­ter-based poly­mer pig­ment inks, which are Swiss or­di­nance com­pli­ant. Dig­i­tal print­ing also in­volves far less time and ef­fort in­vest­ed in cre­at­ing print­ing plates or cylin­ders. This trans­lates into a more ef­fi­cient, more flex­i­ble, and far more ef­fort­less process.
"Giv­en the lim­i­ta­tions of con­ven­tion­al print meth­ods, we were very keen to see how our bar­ri­er pa­pers per­formed on the Ro­ta­JET print­ing press," says Markus Kam­phuis, Tech­ni­cal Sales Man­ag­er, UPM Spe­cial­ty Pa­pers. "The re­sults were ex­treme­ly suc­cess­ful from the be­gin­ning. UPM Con­fidio™ in­cor­po­rates an ad­di­tion­al heat seal func­tion, so it was also im­por­tant to find out if the tem­per­a­tures for dry­ing ink would ac­ti­vate the seal­ing func­tion or change the colours of the de­sign. Nei­ther was an is­sue, and the colours were re­al­ly sharp and vivid. Our pa­pers matched per­fect­ly – it was sim­ply a mat­ter of set­ting the pa­ra­me­ters, op­ti­mis­ing the sys­tem, then print­ing."
UPM Con­fidio™, UPM Asendo™, and UPM Prego™ bar­ri­er pa­per fam­i­lies are easy to re­cy­cle in ex­ist­ing fi­bre re­cy­cling streams. And now, they have been proven com­pat­i­ble with inkjet print tech­nol­o­gy and ready to take ad­van­tage of the ben­e­fits on of­fer. Sam­ples of the end re­sult will be avail­able from UPM on Stand 29, Hall 8A dur­ing in­ter­pack 2023.
(st)