---
WINDMÖLLER & HÖLSCHER KG
Low-maintenance TURBOCLEAN ADVANCED E continues success of system family
14. Dezember 2017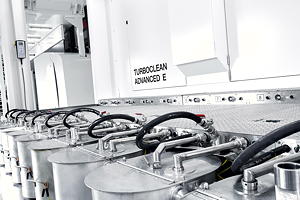 Quelle: Windmöller & Hölscher
Ac­cord­ing to Wind­möller & Hölsch­er, more than 1,000 ink­ing and wash-up TUR­BO­CLEAN sys­tems have now been in­te­grat­ed in cen­tral cylin­der ma­chines. In 2016, W&H sup­ple­ment­ed the sys­tem with a new vari­ant: TUR­BO­CLEAN AD­VANCED E with low-main­te­nance elec­tric pumps and around 50 of this units have been sold since the Dru­pa 2016.
"TUR­BO­CLEAN op­ti­mizes the ink­ing unit and al­lows the ink to be changed more quick­ly. This al­lows print­ers to achieve a high­er pro­duc­tiv­i­ty, es­pe­cial­ly with in­creas­ing­ly short­er jobs. TUR­BO­CLEAN AD­VANCED E adds a sus­tain­able vari­ant to the sys­tem, with the ad­di­tion­al ad­van­tage of low-main­te­nance elec­tric pumps," Ul­rich Harte, Head of Mar­ket­ing Print­ing and Fin­ish­ing, ex­plains the suc­cess of the sys­tem.
W&H in­tro­duced the first ink sup­ply and clean­ing sys­tems with di­aphragm pumps to the mar­ket some 20 years ago in the form of TUR­BO­CLEAN.
"Since then, we have con­tin­u­ous­ly re­fined the sys­tems for an op­ti­mum ink sup­ply, the best clean­ing re­sults, min­i­mum ink loss and re­duced en­er­gy con­sump­tion. To­day, TUR­BO­CLEAN has es­tab­lished it­self as the ma­chine stan­dard on all W&H cen­tral cylin­der ma­chines", so Ul­rich Harte.
The sys­tems are adapt­ed to the re­quire­ments of the print­ing com­pa­nies. Dif­fer­ent clean­ing pro­grams en­sure op­ti­mum re­sults, and var­i­ous ink­ing sys­tems can be used.
The new TUR­BO­CLEAN AD­VANCED E works pul­sa­tion-free, and the pumps are per­ma­nent­ly main­te­nance-low. The en­er­gy con­sump­tion is only ap­prox. 20 per­cent that of a com­pa­ra­ble sys­tem with di­aphragm pumps. "In ad­di­tion to the high prof­itabil­i­ty, the sys­tem's sus­tain­abil­i­ty is a ma­jor ad­van­tage. An ad­di­tion­al ben­e­fit is the sig­nif­i­cant­ly re­duced noise lev­el," sums up Ul­rich Harte.

Grund zum Fei­ern für Bau­mer hhs: Die­ses Jahr nahm die Kro­ha GmbH in ih­rem Werk in Bar­le­ben in der Nähe von Mag­de­burg in Sach­sen-An­halt den welt­weit 5.000s­ten Kalt­leim-Sen­sor UL­T-300 von ...

Ein in­ter­na­tio­na­les De­si­gn-Buch mit zahl­rei­chen Bei­spie­len ak­tu­el­ler Glas­ver­pa­ckun­gen hat Owens-Il­li­nois, Inc. für Kun­den und De­si­gn-Agen­tu­ren ver­öf­fent­licht. Es soll Mar­ken­in­ha­ber und De­si­gnagen­tu­ren auf der Su­che nach neu­en Ide­en für die Glas­ver­pa­ckung ...
---

Mobility is a global megatrend that affects all social and economic spheres. It changes the way people work, think, communicate, consume and also how they eat and drink. This presents ...

In the blister lid foil printing segment the number and duration of changeovers are becoming ever more critical cost factors – especially against the backdrop of continuously shrinking production runs. ...
---