---
Sacmi at the Food+BevTec 2018
Craft beer market keeps growing
7. März 2018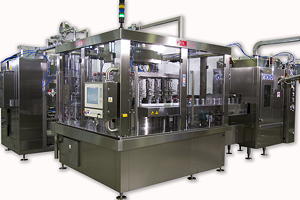 Quelle: Sacmi
Sac­mi will be at the USA's key bre­we­ry event to show­ca­se its la­test tech­no­lo­gi­cal de­ve­lop­ments for la­bel­ling, in­spec­ti­on and fil­ling. Ta­king cen­tre-s­ta­ge will be the La­bel­Check-360, a pre­ci­se, ver­sa­ti­le so­lu­ti­on for to­tal in­spec­ti­on of la­bel­led bott­les
In the USA beer bre­wing is worth over 108 bil­li­on dol­lars a year (of which 23.5 bil­li­on is ge­ne­ra­ted by the emer­ging craft beer seg­ment). Thre­fo­re Sac­mi de­ci­ded to ta­king part in the 35th edi­ti­on of Craft Bre­wers Con­fe­rence & Bre­w­ex­po Ame­ri­ca which, af­ter being held in Phil­adel­phia and Wa­shing­ton D.C., now heads to Nas­h­ville, Ten­nes­see. At the cen­tre of one of the coun­try's most dy­na­mic in­dus­tri­al are­as, Nas­h­ville ex­pects to host, from 30 April to 3 May 2018, over 15,000 in­dus­try pro­fes­sio­nals in­tent on get­ting a clo­se look at the full ran­ge of bre­we­ry so­lu­ti­ons de­ve­lo­ped by the in­ter­na­tio­nal in­dus­try's lea­ding players.
Sac­mi will be the­re with a 200 m2 ex­hi­bi­ti­on area, the cen­tre­pie­ce of which will be the Group's in­te­gra­ted la­bel­ling and la­bel­led bott­le in­spec­ti­on ran­ge. Af­ter win­ning over pro­du­cers world­wi­de (e­spe­ci­al­ly in the wine and beer sec­tor­s) with the new Sac­mi KUBE mo­du­lar la­bel­lers, the com­pa­ny has now laun­ched the La­bel­Check-360, the la­test mo­del to join the all-round la­bel­led bott­le in­spec­ti­on ran­ge.
On the US mar­ket, the ex­pan­si­on of the craft bre­wer sec­tor is arou­sing con­si­de­ra­ble in­te­rest. It has, in fact, grown by over 10% sin­ce 2015 and the num­ber of bre­wers re­cent­ly pas­sed the 5,200 mark (in 2011 the­re were less than 2,000). Beer en­joys sta­ble po­pu­la­ri­ty among US con­su­mers (a re­cent GAL­LUP poll sho­wed that 40% of in­ter­view­ees in­di­ca­ted beer as a fa­vou­ri­te in the al­co­hol and spi­rits ca­te­go­ry); craft beer con­ti­nues to have the hig­hest de­ve­lop­ment po­ten­ti­al and has now re­a­ched and sur­pas­sed a year­ly pro­duc­tion/­sa­les vo­lu­me of 3 mil­li­on litres.

Der tsche­chi­sche Ver­pa­ckungs­ver­band Syba prä­mi­er­te mit dem Pa­let­ten­dis­play für Back-Sets und dem The­ken­dis­play für Kek­se zwei Dis­play­in­no­va­tio­nen aus der Thimm Grup­pe. Bei­de Dis­plays er­hiel­ten den Obal roku in der Ka­te­go­rie ...

Met­sä Board nutz­te die Fach­Pack 2018 um das Sor­ti­ment von Frisch­fa­ser­kar­ton­qua­li­tä­ten zu prä­sen­tie­ren. Neu da­bei der Kar­ton Met­sä­Board Pro FSB EB1, eine Qua­li­tät mit Öko­bar­rie­re. Die bio­ba­sier­te, re­cy­cel­ba­re und bio­lo­gisch ...
---

Davert GmbH specialises in organic foods and stands for the continuous further development of processing methods and careful monitoring of these products, from cultivation to packaging. And this is where ...

Esko and Scodix announce a collaboration to include Scodix packaging enhancement applications within the Esko Studio suite including, Scodix Foil™, Scodix Embossed Foil™, Scodix Sense™ for UV embossing and Scodix ...
---