---
Elegant 5-piece spray cap
Weener Plastics' attractive spray cap for new Nivea deodorant packaging
11. Juni 2018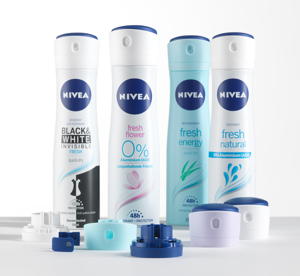 Quelle: Weener Plastic
Ween­er Plas­tics (WP) was cho­sen to de­sign, de­vel­op and man­u­fac­ture the new twist-lock spray cap, in­clud­ing de­vel­op­ment and man­u­fac­tur­ing of the tool­ing for new Nivea de­do­rant pack­ag­ing. In the body care range, NIVEA de­odor­ants are true clas­sics. They are de­signed to meet dif­fer­ent con­sumer needs, al­ways pro­vid­ing su­pe­ri­or pro­tec­tion. For ef­fec­tive ap­pli­ca­tion of the de­odor­ant and an­ti-per­spi­rant for­mu­la­tions, WP de­vel­oped an el­e­gant 5-piece spray cap.
The high­-end polypropy­lene cap of­fers an ul­tra­-fine spray pat­tern. The er­gonom­i­cal de­sign al­lows con­ve­nient left- and right-hand­ed ac­ti­va­tion of the but­ton. The fin­ger grips on the sides al­low for easy open­ing and lock­ing by twist­ing. This twist-lock func­tion en­sures firm clo­sure in the locked po­si­tion, safe for stor­age and on-the-go.
WP was also re­spon­si­ble for tool­ing and en­gi­neer­ing. Ad­vanced mould sets and new­ly de­vel­oped in­no­v­a­tive as­sem­bly tech­nol­o­gy en­hance high­-speed man­u­fac­tur­ing with vi­sion con­trol and 100% flow check. Fur­ther­more, prod­uct and stock han­dling are ful­ly au­to­mat­ed.
The Nivea de­odor­ants and an­ti-per­spi­rants are pack­aged in ap­peal­ing­ly-shaped aerosol cans, each with dif­fer­ent pro­tec­tive for­mu­las and ac­tives for a long-last­ing feel­ing of fresh­ness. They all have the new spray cap with the Nivea-blue but­ton en­hanc­ing the brand iden­ti­ty. The deo spray range is cur­rent­ly be­ing in­tro­duced in Eu­rope and will be rolled out in Asia and pos­si­bly oth­er con­ti­nents in the fu­ture.

Der tsche­chi­sche Ver­pa­ckungs­ver­band Syba prä­mi­er­te mit dem Pa­let­ten­dis­play für Back-Sets und dem The­ken­dis­play für Kek­se zwei Dis­play­in­no­va­tio­nen aus der Thimm Grup­pe. Bei­de Dis­plays er­hiel­ten den Obal roku in der Ka­te­go­rie ...

Met­sä Board nutz­te die Fach­Pack 2018 um das Sor­ti­ment von Frisch­fa­ser­kar­ton­qua­li­tä­ten zu prä­sen­tie­ren. Neu da­bei der Kar­ton Met­sä­Board Pro FSB EB1, eine Qua­li­tät mit Öko­bar­rie­re. Die bio­ba­sier­te, re­cy­cel­ba­re und bio­lo­gisch ...
---

Davert GmbH specialises in organic foods and stands for the continuous further development of processing methods and careful monitoring of these products, from cultivation to packaging. And this is where ...

Esko and Scodix announce a collaboration to include Scodix packaging enhancement applications within the Esko Studio suite including, Scodix Foil™, Scodix Embossed Foil™, Scodix Sense™ for UV embossing and Scodix ...
---