CCL Industries Inc. announced plans for a strategic new capacity investment
Investment of approx. € 23 million in new EcoFloat™ extrusion line at Innovia Films in Poland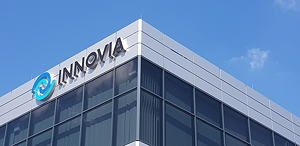 CCL Industries Inc. announced plans for a strategic new capacity investment at their Innovia Films extrusion site in Plock, Poland. A new six-metre multi-layer co-extrusion line will be installed to produce EcoFloat™ shrink sleeve material.
Quelle: CCL Industries, Inc.
CCL In­dus­tries Inc. ("CCL") an­nounces plans for a strate­gic new ca­pac­i­ty in­vest­ment at their In­novia Films ex­tru­sion site in Plock, Poland. A new six-metre mul­ti-layer co-extrusion line will be in­stalled to pro­duce EcoFloat™ shrink sleeve ma­te­r­i­al. This hy­brid poly­olefin film fa­cil­i­tates easy sep­a­ra­tion of la­bels from PET bot­tles and oth­er types of plas­tic con­tain­ers in the re­cy­cling process to en­able bot­tle-to-bottle cir­cu­lar­i­ty, an im­por­tant goal for glob­al food and bev­er­age brand own­ers. The ca­pac­i­ty comes on line in ear­ly 2022 with most of the cap­i­tal de­ployed in 2021.
"CCL de­vel­oped a float­able poly­olefin shrink film to meet the new mar­ket de­mands and to help Brand own­ers reach their sus­tain­abil­i­ty and re­cy­cling tar­gets set by the EU. We see this as the sus­tain­able dec­o­ra­tion so­lu­tion of the fu­ture – for a whole range of pack­ag­ing in the bev­er­age, dairy, home care and oth­er in­dus­tries", says Guen­ther Birkn­er, Pres­i­dent of In­novia and CCL's Food & Bev­er­age busi­ness . "This is why we have de­cid­ed to in­vest in new ca­pac­i­ties in Eu­rope to be in an ide­al po­si­tion to sup­ply the grow­ing de­mand we ex­pect in the fu­ture. Along­side the in­vest­ment into ex­tru­sion, it was im­por­tant to se­cure the raw ma­te­r­i­al sup­ply first and we are very pleased that our part­ner Poly­plas­tics de­cid­ed to in­vest as well in ad­di­tion­al ca­pac­i­ties to sup­port us long-term on our jour­ney to­wards pro­vid­ing sleeve ma­te­ri­als which have been de­signed to sup­port re­cy­cling."
Poly­plas­tics is the lead­ing glob­al sup­pli­er of cyclic olefin copoly­mer (COC) un­der the TOPAS® brand and has an­nounced plans to con­struct a cyclic olefin copoly­mer (COC) pro­duc­tion fa­cil­i­ty in Le­u­na, Ger­many to meet grow­ing de­mand for its TOPAS® COC poly­mers. "The co­op­er­a­tion with CCL/Innovia has been a piv­otal fac­tor al­low­ing us to make this in­vest­ment and set­ting up a sec­ond man­u­fac­tur­ing site for COC" says Gre­gor Bom­mel, Man­ag­ing Di­rec­tor of TOPAS Ad­vanced Poly­mers GmbH.
CCL La­bel re­leased its in­no­v­a­tive EcoFloat™ shrink-sleeves last year. It has been en­gi­neered to per­form ide­al­ly in the sink/float sep­a­ra­tion process of PET re­cy­cling plants for PET con­tain­ers. This en­ables smooth bot­tle-to-bottle re­cy­cling to achieve high yields of high qual­i­ty PET flakes. EcoFloat™ has been en­dorsed by the Eu­ro­pean PET Bot­tle Plat­form EPBP in their eval­u­a­tion ear­li­er this year. As EcoFloat™ is a poly­olefin film, the ma­te­r­i­al also is an ide­al match for HDPE bot­tles and PP cups as cer­ti­fied by Re­cy­cling or­ga­ni­za­tion In­ter­seroh with their "Made for Re­cy­cling" la­bel.
"Our in­vest­ment is part of our com­mit­ment to boost plas­tic re­cy­cling and take steps to­wards a cir­cu­lar econ­o­my as stat­ed when we signed the Glob­al Com­mit­ment of the New Plas­tics Econ­o­my led by the Ellen MacArthur foun­da­tion ear­li­er this year. In fu­ture, the EU will set a tar­get for the re­cy­cling rate in mu­nic­i­pal waste. Reach­ing these will not be fea­si­ble with­out in­vest­ing in new tech­nolo­gies for pack­ag­ing ma­te­ri­als that sup­port 'De­sign for Re­cy­cling'. As a float­able, low den­si­ty poly­olefin film, EcoFloat ful­fills the re­quire­ments for sleeves as de­fined in pack­ag­ing de­sign guide­lines" adds Birkn­er.
(st)