First full-featured HERMA 500 label applicator
Non-stop high speed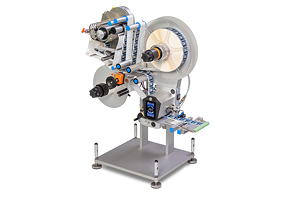 Prepared for marathon performance: the HERMA 500 offers a labeling rate of up to 200 meters a minute, synchronized with the product speed – including in non-stop operation. The key contributors to this performance include motorized winders, a loop unit and an integrated active cooling unit.
Quelle: HERMA GmbH
With mo­tor­ized winders and a loop unit, the new HER­MA 500 ap­plies up to 2,000 la­bels a minute, syn­chro­nized with the prod­uct speed. For con­tin­u­ous duty, the op­tion­al ac­tive cool­ing unit main­tains top per­for­mance with un­ri­valled pre­ci­sion and sta­bil­i­ty. HER­MA is set­ting the lat­est bench­mark for ap­pli­ca­tors as re­gards per­for­mance, con­nec­tiv­i­ty, ease of use and qual­i­ty.
The new HER­MA 500 is a high-speed la­bel ap­pli­ca­tor ca­pa­ble of op­er­at­ing con­tin­u­ous­ly – 24 hours a day and sev­en days a week if nec­es­sary. Run­ning at 200 me­ters or 2,000 la­bels a minute, syn­chro­nized with the prod­uct speed and an op­tion­al cool­ing unit, al­lows a hight through­put.
"Our HER­MA 500 de­fines the lat­est bench­mark for high-performance ap­pli­ca­tions," says Mar­tin Kühl, head of the La­bel­ing Ma­chines Di­vi­sion of HER­MA. "Users whose prod­ucts are la­beled at slow­er speeds can ben­e­fit in every re­spect from our new HER­MA 500 as well. The base unit is al­ways iden­ti­cal, so that the ap­pli­ca­tor con­sis­tent­ly em­bod­ies ex­cel­lent pro­cess­ing qual­i­ty and re­li­a­bil­i­ty along­side user-friendly op­er­a­tion and spe­cial fea­tures for faster set-up." Even those who ap­ply la­bels at a rate of up to 50 m/min have a de­ci­sive ad­van­tage, ex­plains Kühl, "Up to this speed, the HER­MA 500 does not need mo­tor­ized ver­sions of the un­winder and rewinder, which gives users sub­stan­tial cost ben­e­fits." It also of­fers se­cu­ri­ty of in­vest­ment thanks to code-enabled func­tion­al­i­ty and per­for­mance up­grades. In oth­er words, the user does not have to in­vest in a new ap­pli­ca­tor in or­der to ob­tain high­er out­put or in­te­grate a mas­ter en­coder, which en­ables the de­vice to be syn­chro­nized with the prod­uct speed.
An­oth­er unique of­fer­ing for HER­MA ap­pli­ca­tors is the Ser­vice Por­tal https://machines.herma.com, where cus­tomers can not only up­date the firmware and or­der re­place­ment and wear­ing parts, but also con­fig­ure the HER­MA 500 in­clud­ing the stand – ready for in­te­gra­tion – en­tire­ly ac­cord­ing to their needs and wish­es. "Thanks to the high­ly au­to­mat­ed or­der pro­ce­dure, we can ship the HER­MA 500 with­in ten work­ing days. It en­ables us to build the ma­chines quick­ly and of­fer short­est re­sponse times in that in­dus­try," com­ments Kühl.
Ready for Industrial Internet of Things (IIoT)
The ap­pli­ca­tor is op­er­at­ed in­tu­itive­ly, just like a smart­phone, from the 4.3" col­or touch­screen. The dis­play is ro­tat­able in 90° in­cre­ments to en­sure op­ti­mum vis­i­bil­i­ty in any sit­u­a­tion. Apart from these at­trib­ut­es, the HER­MA 500 pro­vides ex­ten­sive and fu­ture-proof con­nec­tiv­i­ty for the tran­si­tion to the In­dus­tri­al In­ter­net of Things (IIoT). Be­sides an in­te­grat­ed web serv­er, which can be ac­cessed re­mote­ly as well, the new ap­pli­ca­tor fea­tures in­ter­faces for con­nect­ing to high­er-level con­trols by way of OPC Uni­fied Ar­chi­tec­ture or In­dus­tri­al Eth­er­net pro­to­cols. For users and op­er­a­tors alike, this re­sults in more ef­fi­cient con­trol of pro­duc­tion process­es, which is cru­cial in the case of com­plex ma­chine con­cepts in par­tic­u­lar. Hav­ing ob­tained both UL and CSA list­ings, the HER­MA 500 can be used with­out any lim­i­ta­tions any­where in the USA and Cana­da.
Lo­cat­ed in Filder­stadt near Stuttgart (Ger­many), HER­MA GmbH is a lead­ing Eu­ro­pean spe­cial­ist in self-adhesive tech­nol­o­gy. In the 2019 fis­cal year, the HER­MA Group gen­er­at­ed sales of € 364,4 mil­lion with 1,097 em­ploy­ees in three di­vi­sions – Self-adhesive Ma­te­ri­als, La­bels and La­bel­ing Ma­chines. The ex­port ra­tio was around 61.0%.
(kb)