BOBST DAYS 2021
BOBST opens its virtual doors for a packaging industry wide event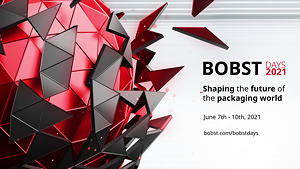 BOBST DAYS 2021 "Shaping the future of the packaging world" will take place on June 7–10.
Quelle: BOBST
BOB­ST is set to de­liv­er a large pro­gram of we­bi­na­rs and live dis­cus­sions that will cov­er all as­pects of la­bel and pack­ag­ing pro­duc­tion, over four days in ear­ly June. With each day ded­i­cat­ed to one sec­tor, in­dus­try ex­perts will present what's new and what's im­por­tant to op­ti­mize your pro­duc­tion floor.
BOB­ST DAYS 2021 "Shap­ing the fu­ture of the pack­ag­ing world" will take place on June 7–10. Each day will fo­cus on one in­dus­try sec­tor, with mul­ti­ple ses­sions cov­er­ing tech­nolo­gies, ap­pli­ca­tions and ser­vices in la­bels, flex­i­ble pack­ag­ing, fold­ing car­ton or cor­ru­gat­ed board.
This on­line ex­pe­ri­ence has been cre­at­ed with flex­i­bil­i­ty in mind, which means that at­ten­dees can tai­lor their in­di­vid­ual par­tic­i­pa­tion to their spe­cif­ic in­ter­ests by reg­is­ter­ing for any of the we­bi­na­rs on any day.
Par­tic­i­pants will gain in­sights into how BOB­ST is im­ple­ment­ing con­nec­tiv­i­ty, dig­i­tal­iza­tion, au­toma­tion, and sus­tain­abil­i­ty across all tech­nolo­gies to help con­vert­ers op­ti­mize their pro­duc­tion. All we­bi­na­rs will be broad­cast in Eng­lish. Live Q&A ses­sions will give at­ten­dees the op­por­tu­ni­ty to quiz the pre­sen­ters, which also in­clude in­dus­try ex­perts and cus­tomers.
Monday June 7 is dedicated to the label industry. Webinars will cover digital inkjet, flexo and All-in-One technologies – flexo and inkjet – to help label converters optimize their entire production floor.
Tuesday June 8 focuses on flexible packaging, helping converters to transform challenges into opportunities. Among the solutions presented will be the new MASTER CI Flexo press, eco-friendly laminates, oneECG printing and recyclable substrates for new ways of meeting sustainability pledges.
Wednesday June 9 addresses converters in the folding carton industry. Experts will take an in-depth look at innovation in printing, die-cutting, and folding-gluing. This will include a presentation on a new hot foil stamper with cross-foiling ability for new embellishment techniques.
Thursday June 10 is aimed at corrugated board converters. Production floor optimization, versatility and automation will be key topics to increase productivity and better satisfy e-commerce requirements.
"Dur­ing our BOB­ST DAYS 2021, we are look­ing for­ward to de­bat­ing how we to­geth­er as an in­dus­try can shape the fu­ture of the pack­ag­ing world. While we are of course dis­ap­point­ed that we are still not able to wel­come at­ten­dees to a real-life event, we want to stay con­nect­ed with all our cus­tomers and the en­tire in­dus­try," said CEO of BOB­ST Jean-Pascal Bob­st.
To at­tend reg­is­ter for BOB­ST DAYS: www.bobst.com/bobstdays.
Found­ed in 1890 by Joseph Bob­st in Lau­sanne, Switzer­land, BOB­ST has a pres­ence in more than 50 coun­tries, runs 19 pro­duc­tion fa­cil­i­ties in 11 coun­tries and em­ploys more than 5 600 peo­ple around the world. The firm record­ed a con­sol­i­dat­ed turnover of CHF 1.372 bil­lion for the year end­ed De­cem­ber 31, 2020.
(kb)