Drop on Demand heading standard
New inline coding solution for pharmaceutical blister packs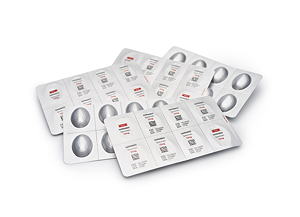 The variable data printer VDP 827 built by Hapa is capable of serializing or coding any part of the blister foil inline. It also supports all the standard symbologies and barcodes.
Quelle: Hapa
De­spite hav­ing long set up times, hav­ing poor leg­i­bil­i­ty and cre­at­ing oc­ca­sion­al re­work, me­chan­i­cal em­boss­ing re­mains the dom­i­nant tech­nol­o­gy for adding vari­able data on blis­ter packs. In view of the ad­verse ef­fect on both over­all equip­ment ef­fec­tive­ness (OEE) and pa­tient safe­ty, phar­ma­ceu­ti­cal com­pa­nies are ur­gent­ly look­ing for so­lu­tions. With its new vari­able data print­er VDP 827, Hapa is now prov­ing how DOD inkjet tech­nol­o­gy – in­stalled in­line – makes mark­ing and cod­ing more ef­fi­cient and re­li­able. Thanks to its high­ly com­pact de­sign, the VDP 827 can be eas­i­ly in­te­grat­ed into blis­ter lines. The VDP con­cept was de­vel­oped in con­sul­ta­tion with the lead­ing blis­ter ma­chine man­u­fac­tur­ers. Since it is based on the proven Hapa We­b­jet tech­nol­o­gy, it is an ac­cept­ed stan­dard and de­tails around me­chan­i­cal and elec­tri­cal in­te­gra­tion have al­ready been de­fined to­geth­er with all key sup­pli­ers. For new blis­ter line in­vest­ments, the VDP rep­re­sents an ex­cel­lent tech­nol­o­gy choice.
"To achieve this lev­el of stan­dard­iza­tion, we worked close­ly to­geth­er with sev­er­al man­u­fac­tur­ers at the de­vel­op­ment stage, says Hapa sales di­rec­tor James MacKen­zie. "Phar­ma­ceu­ti­cal com­pa­nies thus at­tain print­ing process­es that are op­ti­mal­ly matched to the blis­ter ma­chines and ben­e­fit from stan­dard­ized spare and wear parts that are avail­able world­wide."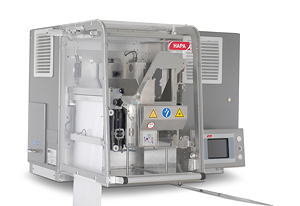 The new VDP 827 is the first highly standardized inline DOD solution for variable data printing on pharmaceutical blister packs – and has already emerged as the first choice of practically all the major players in the blister line sector.
Quelle: Hapa
Built for di­verse in­te­gra­tion sce­nar­ios, the print­er is also an ide­al retro­fit so­lu­tion for con­vert­ing ex­ist­ing blis­ter lines to UV DOD print­ing.
Com­pared to tra­di­tion­al em­boss­ing, for ex­am­ple, the ben­e­fits of vari­able data print­ing with UV DOD tech­nol­o­gy are enor­mous: Ra­zor-sharp 360 dpi print, no mat­ter what the speed of the blis­ter foil, en­hanced cam­era read­abil­i­ty and min­i­mized waste. The VDP 827 can make full use of the web width of up to 288 mm and se­ri­al­ize or code any part of the blis­ter foil. It also sup­ports all the stan­dard sym­bol­o­gies and bar­codes. In ad­di­tion, UV DOD print­ing can be read eas­i­ly by peo­ple and vi­sion sys­tems alike.
UV DOD print­ing also out­per­forms oth­er al­ter­na­tive tech­nolo­gies. Un­like ab­la­tive lasers, for ex­am­ple, the VDP 827 does not gen­er­ate any dust or dirt what­so­ev­er; and there's no need for spe­cial­ly coat­ed and there­fore more ex­pen­sive foils. No con­straints ap­ply in re­gards to for­mat size or print­ing speed. As an en­tire­ly sol­vent-free tech­nol­o­gy, UV-curable DOD is also su­pe­ri­or to ther­mal inkjet, ac­cord­ing to a HAPA press re­lease.
The UV cured ink is nonethe­less avail­able im­me­di­ate­ly for the next in­line process step and is both ex­treme­ly re­silient and abra­sion-proof. It can also be re­filled on the fly with­out in­ter­rupt­ing pro­duc­tion – there is no need for te­dious chang­ing of car­tridges, in­volv­ing ma­chine down­time. "The VDP 827 of­fers a sim­ple and af­ford­able path­way to the re­wards of prob­a­bly the most ad­vanced in­line print­ing tech­nol­o­gy for this par­tic­u­lar ap­pli­ca­tion," con­cludes James MacKen­zie of Hapa. "It im­proves pa­tient safe­ty, re­duces pro­duc­tion com­plex­i­ty, cuts cost and in­creas­es OEE."
Hapa AG is the glob­al leader in late-stage cus­tomiza­tion and on-demand print­ing so­lu­tions for pack­ag­ing process­es in the phar­ma­ceu­ti­cal and health­care in­dus­tries.
Hapa, head­quar­tered in Volketswil near Zurich, is part of Co­esia, a group of com­pa­nies spe­cialised in high­ly in­no­v­a­tive in­dus­tri­al and pack­ag­ing so­lu­tions, head­quar­tered in Bologna, Italy. The Group is present in 35 coun­tries with 85 pro­duc­tion fa­cil­i­ties in 138 op­er­at­ing units and more than 8,000 em­ploy­ees.
(kb)