An interview with Michael Graf, Director Consulting at Schubert-Consulting
Understanding the customers' customers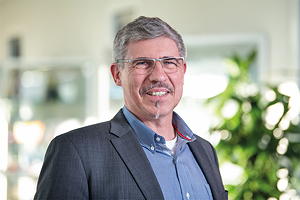 Michael Graf, Director Consulting of Schubert-Consulting
Quelle: Schubert-Consulting
Schu­bert-Consulting is a di­vi­sion of Schu­bert Pack­ag­ing Sys­tems which has its roots in Ger­hard Schu­bert GmbH. Based on decades of ex­per­tise in the pack­ag­ing sec­tor, Michael Graf, Di­rec­tor Con­sult­ing, and his team ad­vise cus­tomers on all process­es re­lat­ing to prod­uct pack­ag­ing. The main fo­cus of cus­tomer sup­port is the com­pre­hen­sive, ful­ly man­u­fac­tur­er-independent analy­sis and op­ti­mi­sa­tion of en­tire process chains – for greater ef­fi­cien­cy, cost-effectiveness and sus­tain­abil­i­ty. In this in­ter­view (pro­vid­ed by the com­pa­ny), Michael Graf re­ports on how Schu­bert-Consulting sup­ports cus­tomers in meet­ing cur­rent and fu­ture mar­ket re­quire­ments – on the oc­ca­sion of the di­vi­sion's 10th an­niver­sary in 2021.
What are you cur­rent­ly work­ing on at Schu­bert-Consulting?
Michael Graf: What is keep­ing us very busy at the mo­ment is some­thing that is known as Con­nect­ing – in oth­er words, bring­ing to­geth­er the var­i­ous par­tic­i­pants in­volved in the en­tire pack­ag­ing process. This be­gins with the dif­fer­ent cus­tomer de­part­ments and ex­tends to ex­ter­nal part­ners. When a com­mis­sioned ar­chi­tect de­signs a mod­ern fac­to­ry hall on a green­field site, they should know from the out­set about the cu­bic me­tres of the ma­chin­ery in­volved, the planned lay­out and the per­son­nel re­quire­ments. Oth­er­wise, the ma­chines may have to be adapt­ed to the hall and the pro­duc­tion process­es can no longer be im­ple­ment­ed in an op­ti­mal man­ner. Our team at Schu­bert-Consulting helps bring the par­ties in­volved to the ta­ble at the be­gin­ning of a project and find a joint so­lu­tion that makes the ac­tu­al pack­ag­ing process as ef­fi­cient as pos­si­ble.
The top­ic of pack­ag­ing de­vel­op­ment is also def­i­nite­ly in line with cur­rent trends. Here es­pe­cial­ly, Con­nect­ing is ab­solute­ly nec­es­sary be­cause pack­ag­ing to­day has to meet nu­mer­ous re­quire­ments that go far be­yond prod­uct pro­tec­tion and trans­port. Just think of re­cy­cla­bil­i­ty, en­hanced mar­ket­ing at the point of sale or mar­ket trends such as the in­di­vid­u­al­i­sa­tion of prod­ucts and e-commerce. In col­lab­o­ra­tion with all part­ners, we can cre­ate eco­nom­ic added val­ue through the de­vel­op­ment of new pack­ag­ing, which is gen­er­at­ed through­out the en­tire process chain, all the way to the con­sumer.
At what stage do cus­tomers turn to you and why?
Michael Graf: Most of­ten, we pro­vide sup­port when man­u­fac­tur­ers are plan­ning a new pack­ag­ing process and the im­ple­men­ta­tion be­comes dif­fi­cult – when they are stuck in a project that is not pro­gress­ing as it should. This of­ten en­tails ideas and ob­jec­tives that go be­yond a sin­gle pack­ag­ing ma­chine as a so­lu­tion, be­cause the up­stream and down­stream process­es strong­ly in­flu­ence pro­duc­tion. In cas­es such as this, it is im­por­tant to take a close look at the en­tire sup­ply and pro­duc­tion chain in or­der to iden­ti­fy and elim­i­nate any bot­tle­necks. This is why we spe­cialise in the strate­gic plan­ning of process­es and cor­po­rate goals, es­pe­cial­ly for the fast-moving con­sumer goods and phar­ma­ceu­ti­cal in­dus­tries. Our cus­tomers are very in­ter­na­tion­al: We of­fer our ser­vices in sev­er­al re­gions of the globe rang­ing from Ger­man-speaking coun­tries to Eu­rope and North Amer­i­ca.
You were on board from the very be­gin­ning. How did Schu­bert-Consulting orig­i­nate back then?
Michael Graf: Be­fore found­ing the com­pa­ny in 2011, I had gained ex­pe­ri­ence as a se­nior project man­ag­er, in the phar­ma­ceu­ti­cal in­dus­try amongst oth­ers. One of my re­spon­si­bil­i­ties was to pre­pare val­i­da­tions for the com­plex pack­ag­ing process­es used for phar­ma­ceu­ti­cal prod­ucts. This gave me an op­por­tu­ni­ty to fa­mil­iarise my­self in depth with the top­ic of qual­i­ty as­sur­ance. At the same time, a new busi­ness field emerged at Schu­bert Pack­ag­ing Sys­tems, at that time still un­der the name "En­gi­neer­ing Con­sult­ing". Since then, Pe­ter Gabriel and I have grad­u­al­ly built up the area. In 2016, the com­pa­ny was re­named Schu­bert-Consulting.
Our first projects arose from the cus­tomer's wish for us to ac­com­pa­ny the in­vest­ment and re­al­i­sa­tion of a new pack­ag­ing ma­chine over the course of the project – also as a ser­vice provider. Cus­tomer sup­port con­tin­ues to be one of our cen­tral con­sult­ing pil­lars. From the very be­gin­ning, how­ev­er, it was also my goal to trans­form the ex­per­tise ac­quired from oth­er in­dus­tries into the sec­tors that Schu­bert serves. I re­mem­ber the ear­ly days at Schu­bert Con­sult­ing, where we were able to make very fast con­fec­tionery pack­ag­ing ma­chines even more ef­fi­cient for our cus­tomers with the right qual­i­ty man­age­ment. Be­cause re­duc­ing waste through­out the en­tire pack­ag­ing process is and re­mains an im­por­tant fac­tor to this day. We are not only re­fer­ring to the ro­bots in the pack­ag­ing ma­chine, but also pre-processes such as bak­ing ovens in which the prod­uct to be pack­aged is man­u­fac­tured.
How has your port­fo­lio evolved over the years?
Michael Graf: The next top­ic along­side qual­i­ty as­sur­ance was lo­gis­tics, in­clud­ing track and trace func­tions. This is more rel­e­vant to­day than ever be­fore, when con­sumers would like to know which farm their milk on the break­fast ta­ble was sourced from. Schu­bert-Consulting's range of ser­vices has there­fore ex­pand­ed from projects in ex­ist­ing fac­to­ries and halls to sim­u­la­tions and new plan­ning on green­field sites. The most im­por­tant work­ing tool for us is a holis­tic view of the pack­ag­ing process­es as well as line in­te­gra­tion, cus­tomis­ing and cus­tomer ad­vice on au­toma­tion, dig­i­tal­i­sa­tion and sus­tain­abil­i­ty. For each project we take on, we put to­geth­er a new team that not only con­sists of one or more of our own em­ploy­ees, but also in­cludes col­lab­o­ra­tions with uni­ver­si­ties, sup­pli­ers, as­so­ci­a­tions such as the VDMA (Ver­band Deutsch­er Maschi­nen- und An­la­gen­bau e.V.) and oth­er in­sti­tu­tions, as re­quired. With­in the Schu­bert Group, we work to­geth­er strate­gi­cal­ly across sev­er­al busi­ness units.
Cen­tral to Schu­bert-Consulting, how­ev­er, is our gen­er­al in­de­pen­dence from oth­er Schu­bert com­pa­nies. We at­tach great im­por­tance to man­u­fac­tur­er-independent con­sult­ing. This means that any­one who uses our ser­vices al­ways has a choice of sev­er­al dif­fer­ent process so­lu­tions. The rea­son why we nev­er­the­less car­ry the Schu­bert name in Schu­bert-Consulting with a cer­tain pride is the pack­ag­ing ex­per­tise we can demon­strate, re­sult­ing from decades of ex­pe­ri­ence.
What has been your ex­pe­ri­ence with con­sult­ing and what do your cus­tomers have to say?
Michael Graf: Many cus­tomers are un­der in­tense com­pet­i­tive and time pres­sures. Only very few have suf­fi­cient­ly com­pre­hen­sive ex­per­tise in-house to es­tab­lish new pack­ag­ing process­es or im­prove ex­ist­ing ones. The feed­back we re­ceive is con­sis­tent­ly pos­i­tive. We solve prob­lems, we get pro­duc­tion run­ning and we make it more cost-effective as well. A key fac­tor is also to find so­lu­tions that reach far into the fu­ture for the cus­tomer. This is why we al­ways try to clar­i­fy how and where a cus­tomer wants to de­vel­op and grow. This some­times re­sults in scal­able projects that are im­ple­ment­ed grad­u­al­ly over sev­er­al years.
All of this can only be achieved in a re­la­tion­ship based on con­fi­dence and col­lab­o­ra­tion. And this is why per­son­al con­tact, in-depth pre­lim­i­nary dis­cus­sions and the cre­ation of a true part­ner­ship are the ab­solute pre­req­ui­sites for a suc­cess­ful project. And for us, talk­ing to our cus­tomers means, above all, un­der­stand­ing our cus­tomers. Lis­ten­ing, al­ways ask­ing dif­fer­ent ques­tions and think­ing ahead, chang­ing per­spec­tives all the way to our cus­tomers' cus­tomers. For ex­am­ple, if you have to un­pack a med­i­cine and strug­gle with the pack­ag­ing, you are less like­ly to be com­pli­ant in tak­ing it. With this in mind, our max­im has changed over time from "ac­com­pa­ny­ing cus­tomers" to "un­der­stand­ing cus­tomers".
How are you dri­ving Schu­bert-Consulting into the fu­ture, es­pe­cial­ly in terms of the key is­sue of sus­tain­abil­i­ty?
Michael Graf: We have been work­ing on this for quite some time and have adopt­ed the "Re­think" as­pect of the 5Rs on sus­tain­abil­i­ty as our guid­ing prin­ci­ple. Re­think­ing con­ven­tion­al ap­proach­es is ex­act­ly what is need­ed for the trans­for­ma­tion to a more sus­tain­able world, and it cor­re­sponds 100 per cent with the essence of Schu­bert-Consulting. We are broad­en­ing our view once again and look­ing at the process vir­tu­al­ly from A to Z – from the raw prod­uct to the end con­sumer and, of course, re­cy­cling. This is based on the ap­proach of keep­ing process­es so sta­ble that there are no re­jects along the en­tire process chain. Be­cause sus­tain­abil­i­ty comes to a large ex­tent from ef­fi­cien­cy.
From this wider per­spec­tive, it fol­lows that we also want to en­ter oth­er nich­es, start-ups and sec­tors. We are com­mit­ted to be­ing trail­blaz­ers, to cre­at­ing a think tank for the fu­ture, among oth­er things with al­liances and ex­perts from a wide range of fields and in­sti­tu­tions, such as the Fraun­hofer In­sti­tute, re­search groups, man­u­fac­tur­ers, etc. In do­ing so, we strive to lead our cus­tomers' vi­sions to sus­tain­able suc­cess. I am de­light­ed when our cus­tomers em­bark on their new projects with en­thu­si­asm, be­cause much more can be achieved than they ini­tial­ly thought pos­si­ble. Pre­mi­um added val­ue, in­spi­ra­tion for fur­ther de­vel­op­ments that we can give them and fi­nan­cial suc­cess for both sides – this is my goal and it's ul­ti­mate­ly what makes con­sult­ing fun.
(This in­ter­view was pro­vid­ed by a press re­lease.)
Ger­hard Schu­bert GmbH is a glob­al­ly recog­nised mar­ket leader in top-loading pack­ag­ing ma­chines (TLM). For its dig­i­tal, ro­bot-based pack­ag­ing ma­chines, the fam­i­ly-owned com­pa­ny based in Crail­sheim (Baden-Württemberg, Ger­many) builds on an in­ter­play of sim­ple me­chan­ics, in­tel­li­gent con­trol tech­nol­o­gy and high mod­u­lar­i­ty. Found­ed in 1966, the sec­ond gen­er­a­tion of the com­pa­ny now em­ploys 1,400 peo­ple.
(kb)