How the NOVAFOIL 106 integrates seamlessly into the production process of Offsetdruckerei in Schwarzach, Austria
Ultimate quality and productivity in hot foil stamping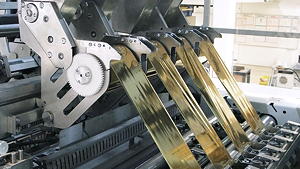 Johannes Knapp: "We use the NOVAFOIL 106 for long runs with boxes which have large surfaces that need to be embellished. It gives us very high productivity with impressive finishing quality."
Quelle: BOBST
Off­set­druck­erei Schwarzach is an off­set print­ing com­pa­ny known through­out Eu­rope for the finest qual­i­ty high-end pack­ag­ing for pre­mi­um choco­lates, cos­met­ics and oth­er prod­ucts. This made it the ide­al lo­ca­tion to beta test the NO­VAFOIL 106 hot foil stamp­ing ma­chine from BOB­ST.
"We use the NO­VAFOIL 106 for long runs with box­es which have large sur­faces that need to be em­bell­ished. The ma­chine gives us very high pro­duc­tiv­i­ty with im­pres­sive fin­ished prod­uct qual­i­ty," the com­pa­ny's CEO Jo­hannes Knapp says, as he sums up the com­pa­ny's ex­pe­ri­ence with the new BOB­ST hot foil stamp­ing ma­chine.
He thinks the new­ly de­vel­oped plat­en press is the high­light of the ma­chine. With this, BOB­ST has in­creased the dwell time be­tween the die with the foil and the sheets. The longer dwell time com­bined with an even tem­per­a­ture and a high­er pres­sure per­fect­ly en­hance the high qual­i­ty of the em­bell­ish­ment. This ap­plies to del­i­cate fin­ish­es as well as large-area em­bell­ish­ments.
Extremely stable sheet travel
"We'd been hop­ing that the in­no­v­a­tive tech­nol­o­gy in the NO­VAFOIL 106 would help us in­crease hourly out­put in hot foil stamp­ing. That's ex­act­ly what hap­pened. De­pend­ing on the com­plex­i­ty of the fin­ish, the ma­chine eas­i­ly op­er­ates at speeds of up to 8,000 sheets per hour for large runs," says Knapp.
At all speeds, the sheets trav­el through the ma­chine with ab­solute sta­bil­i­ty. To make that pos­si­ble, BOB­ST adapt­ed the grip­per bar ad­vance sys­tem of the NO­VAFOIL 106 to en­sure out­stand­ing­ly even sheet trav­el with op­ti­mal sheet de­lay. In ad­di­tion, the lat­est-generation feed­er en­sures con­stant sheet feed­ing and the high­est reg­is­ter pre­ci­sion. For em­boss­ing, de­boss­ing or hot foil stamp­ing, sta­ble sheet trav­el is also a key fac­tor in flaw­less qual­i­ty and pro­duc­tiv­i­ty.
Significant foil economies with cross-foil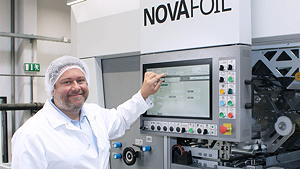 Johannes Knapp shows how easy it is to use the NOVAFOIL 106 through the SPHERE human-machine interface.
Quelle: BOBST
The NO­VAFOIL 106 is the first hot foil stam­per from BOB­ST that can ap­ply foil in both di­rec­tions: in­line and across the sheet run­ning di­rec­tion. The ma­chine con­fig­u­ra­tion al­lows hot foil stamp­ing with up to eight reels for line and four reels for cross-foiling. This al­lows pro­duc­tion of high­ly so­phis­ti­cat­ed pack­ag­ing de­signs in a sin­gle ma­chine run. The NO­VAFOIL 106 at the Schwarzach fa­cil­i­ty is equipped with all 12 foil reels.
Jo­hannes Knapp says: "With the new hot foil stamp­ing ma­chine, we can run dif­fer­ent col­ors in­line and cross-foil. More­over, the eight in­line foil reels give us flex­i­ble op­tions for op­ti­miz­ing the foil ad­vance. On cer­tain jobs, the use of cross foil­ing helps us to fur­ther op­ti­mize the foil ad­vance and re­duce foil con­sump­tion even more. De­pend­ing on the job, we may have 30% to 40% low­er foil con­sump­tion than be­fore." This is not only cost-efficient but sup­ports the sus­tain­abil­i­ty of the pack­ag­ing and the process.
Off­set­druck­erei Schwarzach also achieves these sav­ings by us­ing the OACS sys­tem (Op­ti­mal Ad­vance Com­put­er Sys­tem) which au­to­mat­i­cal­ly cal­cu­lates the ide­al foil ad­vance. BOB­ST has in­clud­ed this sys­tem as an op­tion on the NO­VAFOIL 106. "The cal­cu­la­tions are flaw­less. So far, there's been no com­plaint that too much or too lit­tle foil was pro­vid­ed," Knapp af­firms.
The high­er pro­duc­tion speed also al­lows more sheets to be processed with the same en­er­gy con­sump­tion. "Cal­cu­lat­ed at 1,000 sheets, this ma­chine uses 20% less elec­tric­i­ty. This is an­oth­er way in which it sup­ports our sus­tain­abil­i­ty strat­e­gy," Knapp ex­plains.
Ergonomics and user-friendliness
A spe­cial­ly de­vel­oped lift sys­tem for heavy foil reels fa­cil­i­tates the work of ma­chine op­er­a­tors, as they do not have to lift the reels into the ma­chine. With this, and the high lev­el of au­toma­tion as­so­ci­at­ed with the NO­VAFOIL 106 – for ex­am­ple with the semi-automatic foil reel change – set­up and changeover times have been short­ened.
The op­er­a­tors like work­ing with the new ma­chine. The SPHERE hu­man-machine in­ter­face pro­vides easy, in­tu­itive nav­i­ga­tion through the func­tion­al­i­ties. Re­peat or­ders are up au­to­mat­i­cal­ly. Er­gonom­ics and user-friendliness al­low easy ac­cess to all func­tions and set­tings, in­clud­ing the plat­en sec­tion. For qual­i­ty con­trol, op­er­a­tors can safe­ly and eas­i­ly re­move sam­ples from the ma­chine with­out stop­ping it.
One-of-a-kind flexibility
In their meet­ing room, Off­set­druck­erei Schwarzach dis­plays a range of pack­ag­ing they have pro­duced for their cus­tomers. Most of them were en­hanced with hot foil stamp­ing, some prelam­i­nat­ed, blind and struc­tural­ly em­bossed, and laser cut. The com­pa­ny em­bell­ish­es a great num­ber of pack­ag­ing with two films, and some even with three films.
Knapp says: "Of course, from an eco­nom­ic point of view, we also need mass pro­duc­tion busi­ness — which re­quires tech­nol­o­gy that al­lows the high­est qual­i­ty and ef­fi­cien­cy. Even in that re­gard, the NO­VAFOIL 106 fits seam­less­ly into our process." The same goes for the ma­chine's 1,060 x 760 mm sheet for­mat, which the pack­ag­ing man­u­fac­tur­er also prints and cuts. They gen­er­al­ly use the NO­VAFOIL 106 to process sol­id card­board in weights of 300 to 400 g/m2. That in­cludes re­cy­cled card­board.
"The lat­est tech­nol­o­gy, such as the NO­VAFOIL 106, al­lows us to run our cus­tomers' or­ders at more com­pet­i­tive prices," ex­plains Knapp, show­ing the in­vest­ment from an­oth­er an­gle. The fact that the new hot foil stam­per al­ready runs in two to three shifts also shows that the in­vest­ment was need­ed.
"We will con­nect one of the BOB­ST ma­chines to BOB­ST Con­nect to ex­plore what ad­di­tion­al pos­si­bil­i­ties this cloud-based plat­form of­fers for fur­ther op­ti­miz­ing our process­es," pre­dicts Knapp. With its vi­sion for the in­dus­try built around dig­i­ti­za­tion, au­toma­tion, con­nec­tiv­i­ty and sus­tain­abil­i­ty, BOB­ST has once again shown its ori­en­ta­tion to­ward the fu­ture.
To­day's off­set print­er Off­set­druck­erei Schwarzach GmbH start­ed in 1913 as the Vo­rarl­berg­er book print­ing com­pa­ny in Dorn­birn, Aus­tria. Now head­quar­tered in Schwarzach, Aus­tria, the com­pa­ny has more than 50,000 m2 ded­i­cat­ed to pro­duc­tion and 400 em­ploy­ees. They ex­port more than 75% of their pro­duc­tion — im­pres­sive high-end pack­ag­ing of sol­id card­board — large­ly to cus­tomers with­in a 500 km ra­dius. The com­pa­ny fo­cus­es on the con­fec­tionery and dairy in­dus­tries, along with a broad range of cus­tomers in the non-food sec­tor, such as cos­met­ics, health­care and pa­per la­bels.
Found­ed in 1890 by Joseph Bob­st in Lau­sanne, Switzer­land, BOB­ST has a pres­ence in more than 50 coun­tries, runs 19 pro­duc­tion fa­cil­i­ties in 11 coun­tries and em­ploys more than 5 800 peo­ple around the world. The firm record­ed a con­sol­i­dat­ed turnover of CHF 1.563 bil­lion for the year end­ed De­cem­ber 31, 2021.
(kb)